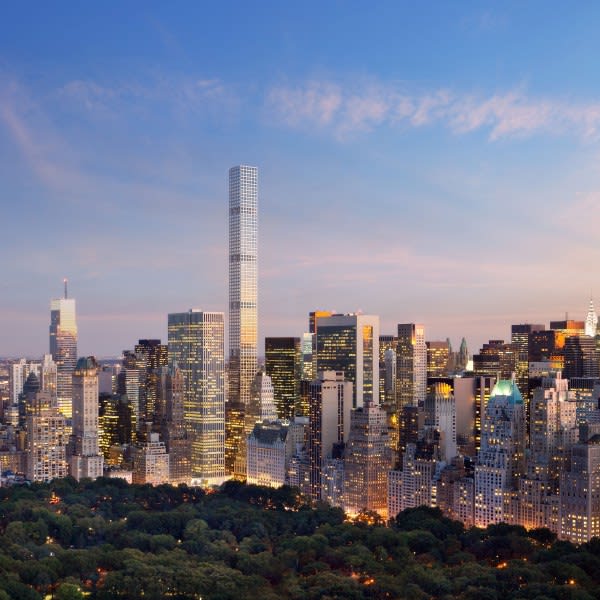 As the 57th Street towers rise, what of property values for the mere millionaires? (DBox).

In the spring of 2010, a French businessman whom we shall, for the purposes of this article, refer to as Guillaume, went to look at a condo in Metropolitan Tower at 146 West 57th Street. He liked it immediately. "The building was a bit old-ish, a bit '90s-ish, but it was a magnificent apartment Central Park was right in front of you when you walked in," he recalled. View, he emphasized to the Observer, was very important to him.

But the apartment's listing broker, Jay Overbye of Halstead, called a few days later to tell him that much as he'd love to sell him the place, The New York Times had just reported that Extell was planning to build a 1,000-foot tower next door.

"I was like, 'Let's get out of here,' " Guillaume recalled. But he didn't go far he bought a spacious two-bedroom a few blocks west, in the Sheffield, for $2.7 million. He had been hesitant at first, he said; relatives living in New York had warned him against buying in the building, a condo conversion still roiled by the financial downfall of its developer Kent Swig. And the price a little north of $1,500 a square foot seemed "a bit risky." But knowing that One57 would soon be rising just a few blocks away, creating what he saw as a kind of "golden triangle" effect in a corner of the park, he felt confident enough to go through with the sale. "It's because of One57 that I decided to buy at the Sheffield," he said.

The Parc Vendome, where brokers say there has been a significant bump.

Four years later, the asking prices of Sheffield listings average $2,403 per square foot, though Guillaume had no plans to sell when we spoke. He was, in fact, doubling down on the neighborhood the next day he was planning to close on a $4.5 million one-bedroom in One57.

"In the same way that One57 made me buy in the Sheffield, 432 Park made me buy at One57," he explained. He believes that owning two apartments on what is quickly becoming one of the city's pre-eminent luxury corridors is an incredibly safe investment quite possible the safest real estate one in the city.

He's not alone. While the 57th Street corridor's transformation from less-than-prime residential strip to Billionaire's Row has been a source of great frustration for existing residents bringing construction noise, obstructed views and even a few mandatory evacuations it has also stoked giddy fantasies of financial windfalls. Surely, owning an apartment among, if not in, the super-luxury skyscrapers must confer some financial advantage? And indeed, recent data suggests that local property values have enjoyed a bump beyond city averages. At the comparatively modest Carnegie House, for example, where co-ops rarely fetch more than $1.5 million, the average closing price in 2013 was $696,000, compared to $538,538 in 2009, according to data provided by Brown Harris Stevens. Meanwhile, Metropolitan Tower prices rose even as the skeleton for One57 did from an average of $2.99 million in 2010 to $3.14 million in 2011. Condos, typically, have seen more appreciation than co-ops, given their greater openness to investors and pieds-a-terre, but the new amenities and burnished residential allure of the strip have bolstered co-op prices as well.

But seller beware: Brokers caution that the spoils aren't just there for the taking in order to take advantage of all the money flowing into the neighborhood, apartments and buildings must demonstrate, if not equivalent standards of luxury, then similar levels of polish. It's a shame if one's master-of-the-universe views have been replaced by views of a neighboring building, but the apartment can still benefit from the local boom, so long as the comparison is not a wildly unflattering one. After all, park and river views are pristine, but as Leslie Hirsch, a broker at Engels & Völkers NYC who has sold more than a hundred units at Metropolitan Tower over the years, noted, "One57 is the most-expensive building in New York, so it's not the most terrible thing to be facing."

One57 blocking views but boosting prices at the same time?

"Everyone wants to live where the billionaires live!" exclaimed Halstead broker Barak Dunayer, who currently has two sales in contract at CitySpire, which are poised to close at about 40 percent more than they traded for two years ago. One was renovated, but one was not.

"People love to say they live near celebrities. It's the same with billionaires," he opined. "If you can brag to your friends that you bought on the same block, if not the same building, as someone who paid $50 million or $60 million for their apartment, well…"

Which rather gets to the heart of the matter though the skinny new skyscrapers certainly add an alluring glow to more mundane properties, much like a leggy supermodel on an aging tycoon's arm, for the most part, the "more mortal buildings" in the words of one broker, aren't competing with the One57s and 432 Parks for buyers.

And prices at the super-luxe skyscrapers make more modest co-ops and condos seem downright cheap. "When people don't blink at $3,000 or $4,000 a square foot [One57 is closer to $7,000], $2,000 a square foot looks like a bargain," Mr. Dunayer said.

The key, of course, is knowing when and how to compete. A current Stribling listing for a $6.5 million three-bedroom apartment at Metropolitan Tower, from whose windows one can see One57, takes a savvy approach, touting the apartment's location "on the most coveted stretch of 57th Street" and boasting that "the quality of this particular renovation is so customized and so high end that you ironically get a better living experience than you do at these brand new buildings because this is actually newer."

But the asking price, at $2,600 per square foot, wisely reflects Metropolitan Tower's less-lofty status. Not that the owners, who bought the unit for $3.85 million in 2012 and were until three weeks ago trying for $7.5 million, won't make out handsomely if it sells for that.

Renovations, say brokers, are key. A rising tide may lift all boats, but it won't lift those with holes in the hull.

"People want modern buildings, so the main thing is to have modern finishes, to renovate," said Ms. Hirsch. "It's not so much that it's the same buyer in the old and the new buildings, but it's the feeling that the area is new, and the buyers want to live in a new area."

Ms. Hirsch said that five to seven years ago, when sellers would ask if they should sink $50,000 or $100,000 into renovations, she'd urge caution. Buyers wanted value. Now they're looking for sleek finishes; besides, many are foreigners and they don't want to deal with renovation. Mr. Overbye noted that some enterprising owners even reconfigure their units to take advantage of newly oblique views.

A number of buildings, anxious about looking dowdy in comparison to their new neighbors, are coughing up the cash for lobby, gym and common space renovations. Metropolitan Tower just redid its pool; CitySpire has undertaken a makeover of its gym and common spaces; and the Park Imperial paid for a complete renovation of its lobby and common spaces in 2013.

A Engels & Volker NYC listing at Metropolitan Tower. One57 is visible from the corner of the window.

"Everyone was willing to pay it. I think it was understood that while the Park Imperial is a great Related building, they'd be competing with those towers coming up on 57th Street," said Christian Rogers, a CORE broker with a number of listings in the building. "The renovations have sort of put it back in the mix."

Mr. Rogers said that one of his Park Imperial clients is considering listing an apartment he bought for $3.4 million in December 2009 in the mid-$4 millions. Of course, that apartment won't have its view blocked by 220 Central Park South, the A.M.-Stern designed Vornado tower rising in front. Another client who bought around the same time is not so lucky he lives in the B line, where views will be partially obstructed. Though, in the long run, Mr. Rogers doesn't think the new tower will hurt his property values quite the opposite.

"My advice to him was to wait for those buildings to come up. The view will still be nice, the buyer will have a clear idea of what they're getting for their money, and the new towers will add value back in."

CitySpire is updating its common spaces and amenities.

Along the 57th Street corridor, some of the buildings that have seen the most appreciation are those on the district's western edge, which now feels downright central with the Durst Pyramid rising between 11th and 12th Avenues.

"I have no product right now," lamented Thomas McDonagh, of McDonagh Real Estate, a broker, who lives in Parc Vendome,a large prewar condo complex on 57th Street between Eighth and Ninth Avenues, and deals only in Parc Vendome units. His only available listing right now is in contract. About 18 months ago, prices went up from $1,100 to $1,200 a square foot to $1,300, he said, making a number of owners reluctant to let go just yet.

"People are saying, 'It's only going to get better every time they build another tower.' They think there's gold in them thar hills."

At the Sheffield, Halstead broker and resident Dorothy Somekh told us that if you look at rental prices a significant factor in a neighborhood where investment properties are routinely rented out a few of the units are nearing One57 levels: She recently rented a penthouse in the building for $21,000 a month, whereas a two-bedroom at One57 went for $23,000 a month.

"People are weighing it," she said. "Do we go for the ritzy One57? Or a building that's nice, if not quite that nice."

Photo Credit: Richard Caplan

The living room of a condo at the Sheffield.

The Sheffield had better be careful: The only properties that aren't as likely to benefit from the gleaming new skyscrapers are those in the same stratosphere i.e. the Time Warner Center and Trump Tower, on whose roof Donald Trump once hung a sign taunting newly arrived Time Warner Center residents: "Your views aren't so great, are they?"

Meanwhile, a current listing for a $28 million four-bedroom at the Time Warner Center brags that the "triple-mint home" is "free of the early growing pains typically found in even the highest end of residential new construction." Unlike some other luxury towers in the neighborhood.

Some insecurity is understandable. What's very cutting edge today will inevitably feel a little dated a decade hence.

It's a fate that not even One57, which has struggled to sell its remaining units as deep-pocketed buyers look to the profusion of new, ultra-luxe towers rising in the area, can escape. As Douglas Elliman broker Jacky Teplitzky told Bloomberg when it broke the news that sales at One57 had slowed to a trickle: "In New York, a new club lasts like five seconds and then there is something new. And then the old club, which is not really old, becomes old."

Correction: A previous version of this story stated that Halstead broker Barak Dunayer had two units in contract at the Parc Vendome. They are, instead, at CitySpire. The Observer regrets the error.